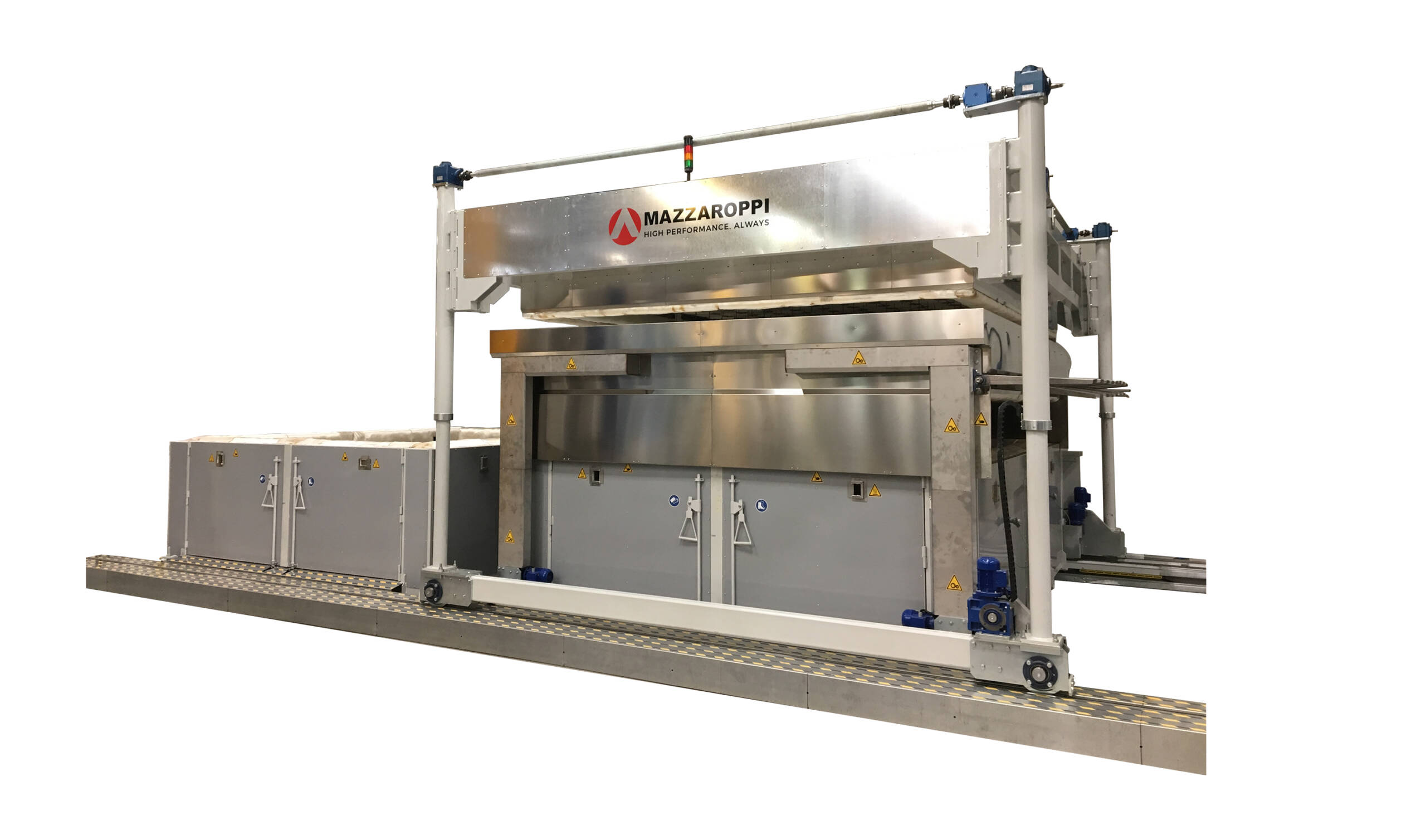 The CS bending furnace allows the glass to be bent on special moulds.
Various curved shapes can be made in order to diversify production.
The oven is made up of stations called "boxes" where you load the molds with their glass packages.
These plants are intended for companies that operate mainly in the field of architecture and are considering buying a mold glass bending plant for the following reasons:
+

REDUCE ENERGY CONSUMPTION BY UP TO 70%
+

IMPROVING THE QUALITY OF THE FINAL PRODUCT
+

SIMPLIFYING AND SPEEDING UP THE ENTIRE PRODUCTION PROCESS
+

INCREASING THE PRODUCTIVITY
The CS, like all the plants produced by Mazzaroppi, can be customized according to the needs of the customer, from different points of view, to achieve its ultimate goal: to offer the best solution to meet all the production needs of the glassworks, with the lowest energy consumption in the
industry.
Among the special features of the oven we have:
The base of the boxes: made up of a particular grating that makes it walkable.
The height of the boxes that allows the forming process to be carried out completely inside the box. This limits any thermal shocks that may occur at the beginning of the cooling phase.
Opening doors that allow the operator easy access to the inside of the module for both mould setup and maintenance operations.
Vision system: special portholes positioned on the side in order to control the laying of the
glass on the mold during the heating process.
Heating section: This module is mobile and moves on the boxes by means of special rails, so that the molds that support the glass are not affected by any movement or vibration during the positioning. The closure of the heating chamber has been studied in such a way as to reduce friction to a minimum and consequently has a longer duration in time.
The movements work in semi-automatic mode through the HMI interface.