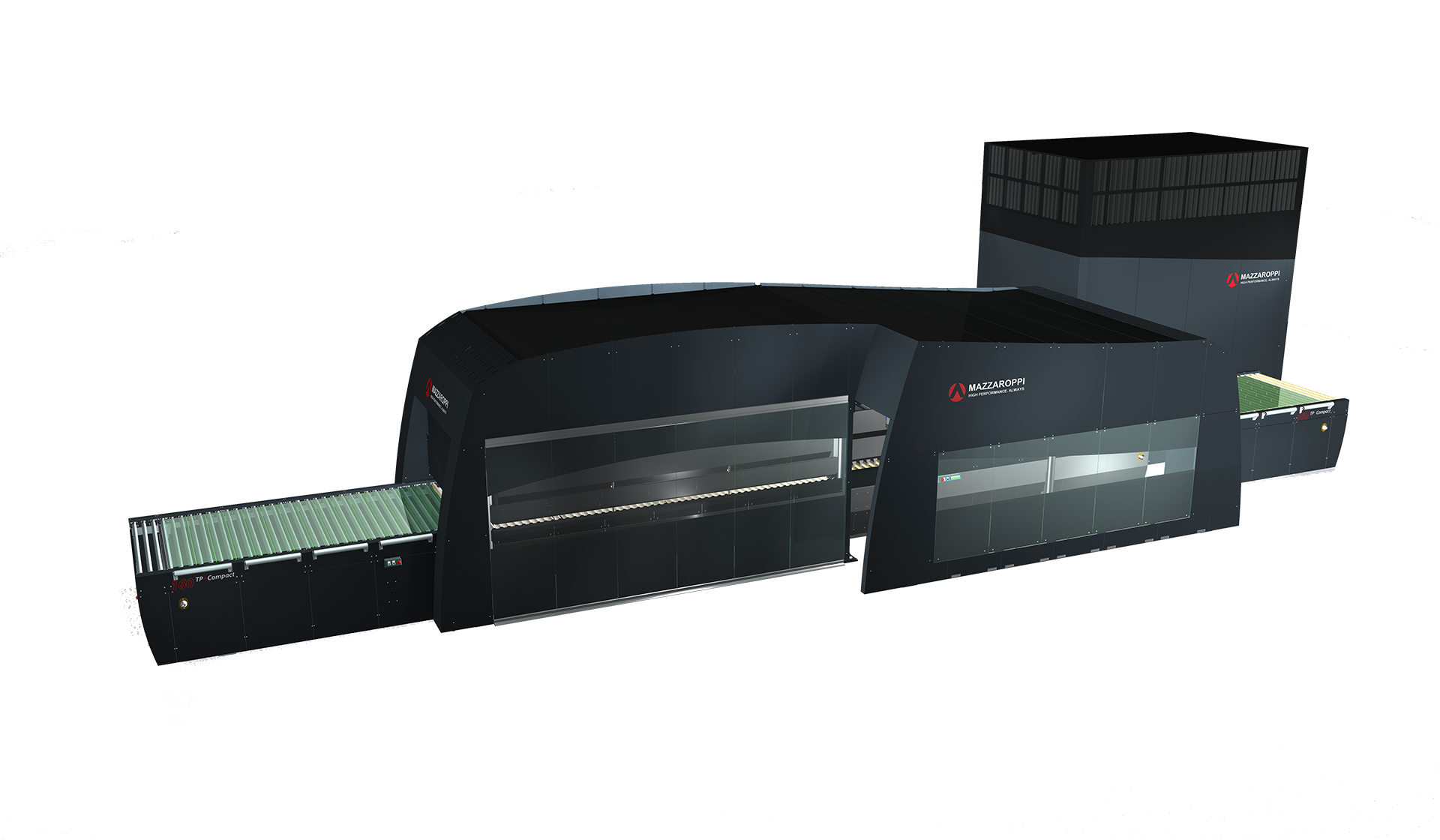 Imagine a glass tempering machine so compact that it could fit into a small glassworks, allowing the operators to take care of the entire tempering process without outsourcing it, and at the same time so flexible and efficient that it could guarantee the best quality on the market with lower energy consumption than any other. 
Now imagine being able to use such a machine whenever and wherever you want without any special training, with an interface as simple and intuitive as a smartphone. 
We are happy to present you the new TP Compact by Mazzaroppi: everything you ever wanted from a glass tempering machine and much more, the result of the experience and vision of our creative atelier.
The new Tp compact by Mazzaroppi Engineering is the first glass tempering furnace studied, designed and manufactured to offer, at last, a solution to all the small and medium glassworks which have the following objectives
+

Internalise the tempering process
+

Increase the quality of the final product with the lowest consumption on the market
+

Simplify and speed up the entire production process (without completely overhauling the company)
+

To offer a punctual, fast and quality service to its customers.
This type of furnaces for glass tempering presents the same characteristics of all Mazzaroppi's plants 
These features allow us to reduce energy consumption in a real way, and consequently allow our customers not only to optimise production but also to make significant savings. With our machines we are able to unhinge the old concept of enormous energy consumption typical of obsolete tempering furnaces.
MAXIMUM QUALITY
In order to guarantee the quality and high performance of our products, we constantly subject them to meticulous tests, from which it emerges that we have managed to achieve a decrease in anisotropy of -97%. Thanks to the technology in our machines, the heat is distributed evenly and precisely over the glass sheet to minimise roller wave and edge lifting.
LOW MAINTENANCE 
The construction of our machines is based on the choice of high quality European and certified materials, so they require little or no maintenance. The quality of the equipment is therefore guaranteed, and in case of any problem we have a team of specialized engineers remotely connected and constantly ready to support our customers via internet, so as to promptly solve the problem and reduce downtime.
USER FRIENDLY
All our systems are designed to follow the production needs of the customer and adapt very quickly to any thickness or format of the sheet without waiting times. In addition, they store and compose an automatic report with the characteristics of the sheet to facilitate the work of the operators. Thanks to the use of intelligent 4.0 software, the system self-adjusts to the customer's different production requirements automatically and quickly, so it does not require highly specialised personnel to be used at its best.